MAPPING THE SUPERIOR HIKING TRAIL
2020

I am extremely grateful to have received a 2020 Artist Initiative Grant from the Minnesota State Arts Board, in which I will create a limited edition artist book of prints that document an exploration of mapping the Superior Hiking Trail landscape through walking and leading workshops about observing and documenting the outdoors.

Before introducing this project any further I would like to acknowledge that the 310 mile Superior Hiking Trail resides on stolen land of the Dakota and Anishinaabe Traditional Territories.

While on the trail this summer and fall, I intend to practice the art of walking along with making cyanotypes and rubbings that will focus my observations on the small moments of a trail such as the shadows a tree creates or the textures of a rock that one might step over.

Documentation photos are courtesy of my wonderful trekking companion, Josh Mills (instagram: @jmills1215)

- - -



Martin Road Trailhead to Lake County Demonstration Forest.
40 miles / 4 days


This first stretch was about getting our bodies acclimated to the trail, figuring out what worked and what didn't, realizing how much we over packed or under packed in certain areas, along with finding a rhythm in making art in a backcountry setting.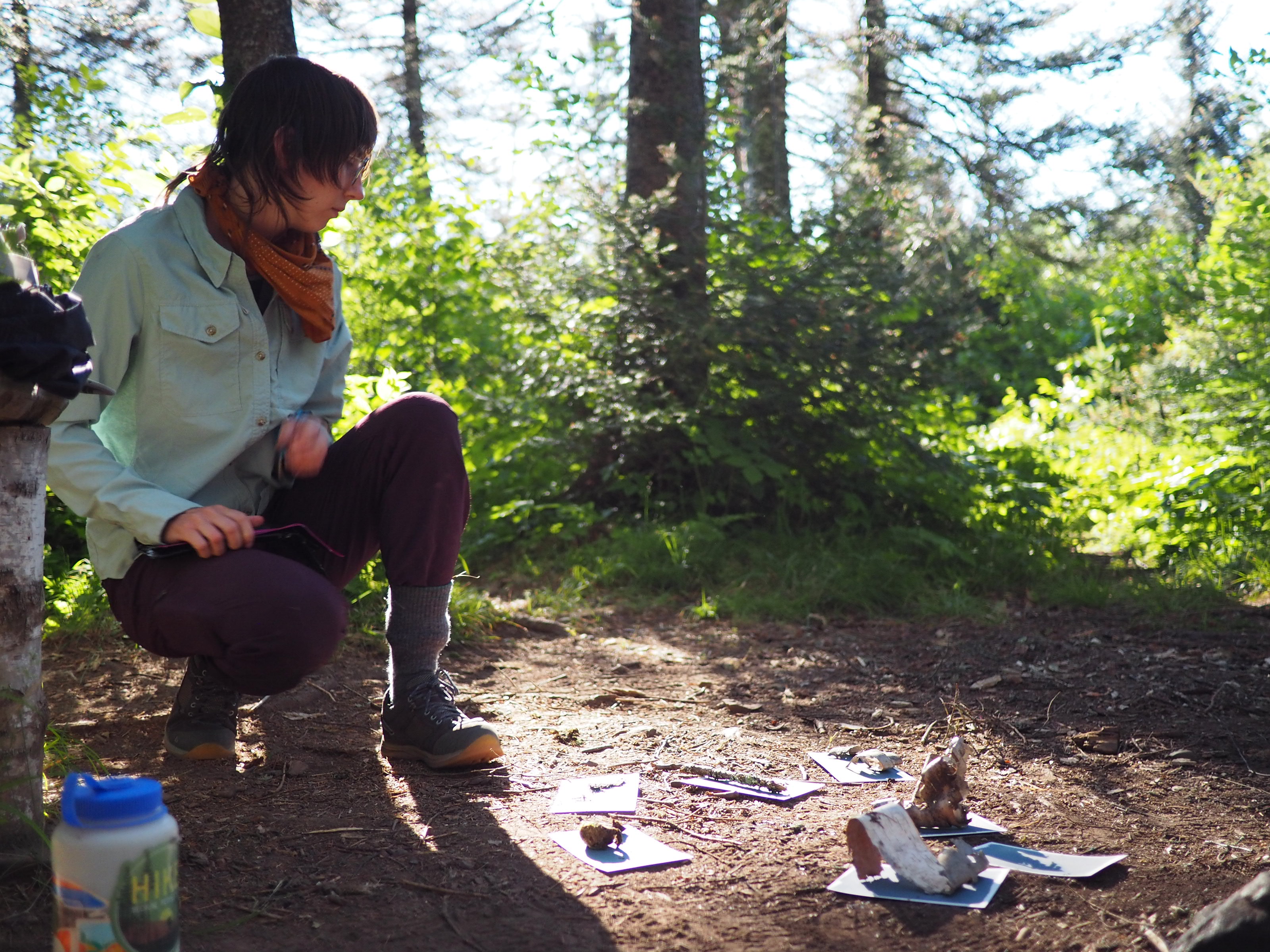 Pictured above are some glimpses to the cyanotype process. This first 40 miles allowed me to really figure out what works and what doesn't on trail. This ranges from what materials worked, to what time of day allowed me to really sit with the making process, to grasping what on trail life would be like. This project is a lot about researching walking as a primary medium, and then the tactile art as a way of documenting thoughts and the process of time on trail.

- - -


The Trail.

310 miles. Southern Terminus: Wild Valley Road Trailhead, Minnesota / Wisconsin border Northern Terminus: 270° Overlook, just south of the Minnesota / Canada border

For this project, I will be focusing on the section just north of Duluth, MN to the Northern Terminus. This is considered the traditional thru-hike, which clocks in at 260 miles.



- - -



Art Gear.


Here's a look at my thru hiking art set up. It was important to me that I prioritize art materials but also kept it very minimal to help with my pack weight. Every trail section I've been carrying...
-about 40 sheets of cyanotype coated paper (postcard size) in a DIY light tight bag - black duct tape over a ziplock.
-Thai Mulberry paper for rubbings.
-Cretacolor charcoal set.
-Faber Castell pens.
-Rite in the Rain: All-Weather Notebook
-my Eaux Claires IV pencil
-eraser / pencil sharpener
-3 ziplock bags

And everything fits nicely into an Eagle Creek bag.




- - -



More to come.



- - -



Anna Orbovich is a fiscal year 2020 recipient of an Artist Initiative grant from the Minnesota State Arts Board. This activity is made possible by the voters of Minnesota through a grant from the Minnesota State Arts Board, thanks to a legislative appropriation from the arts and cultural heritage fund.