CONTOURS OF IRON.
2019
PRINT
2016 - 2019
CONTOURS OF IRON.
2019
cast iron, hardware cloth, soil, rope, rebar, grass

This piece was made while in residence as a Hot Metal Artist at Franconia Sculpture Park in Shafer, MN.

contours of iron. is an experimental cast iron piece where I used residue silicate sand molds from a previous iron pour to create a landscape that I poured iron into. I was interested in creating a performative aspect to the piece during the pour by building up layers of iron and tracing various contours of the mold. The installation includes colored rope (paracord) that is common in recreation such as camping and climbing, creating topographic contour lines that reference tidal zones, elevation changes and trails. Below are images of the piece during the process of pouring, after it was newly installed in late Summer and again during the Spring.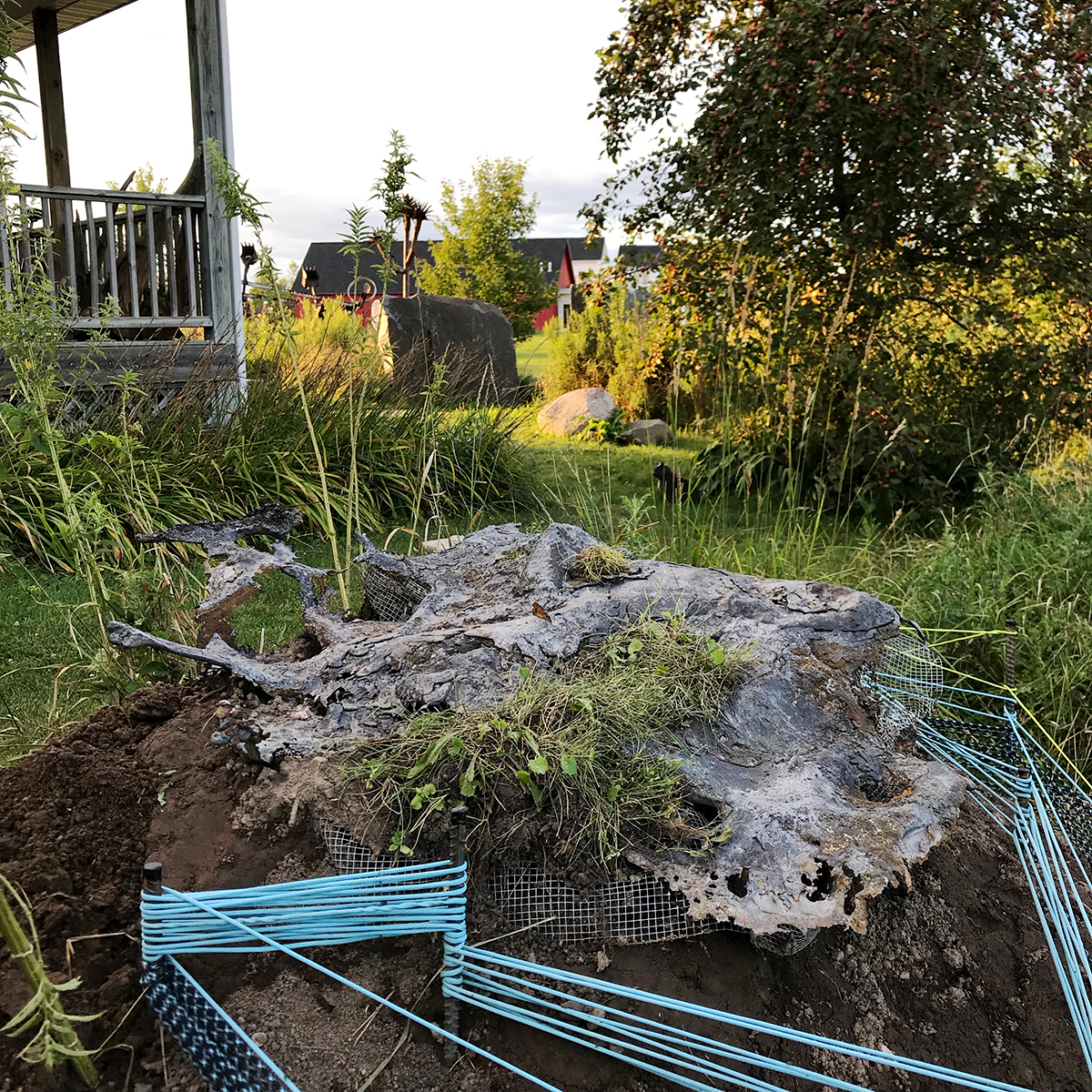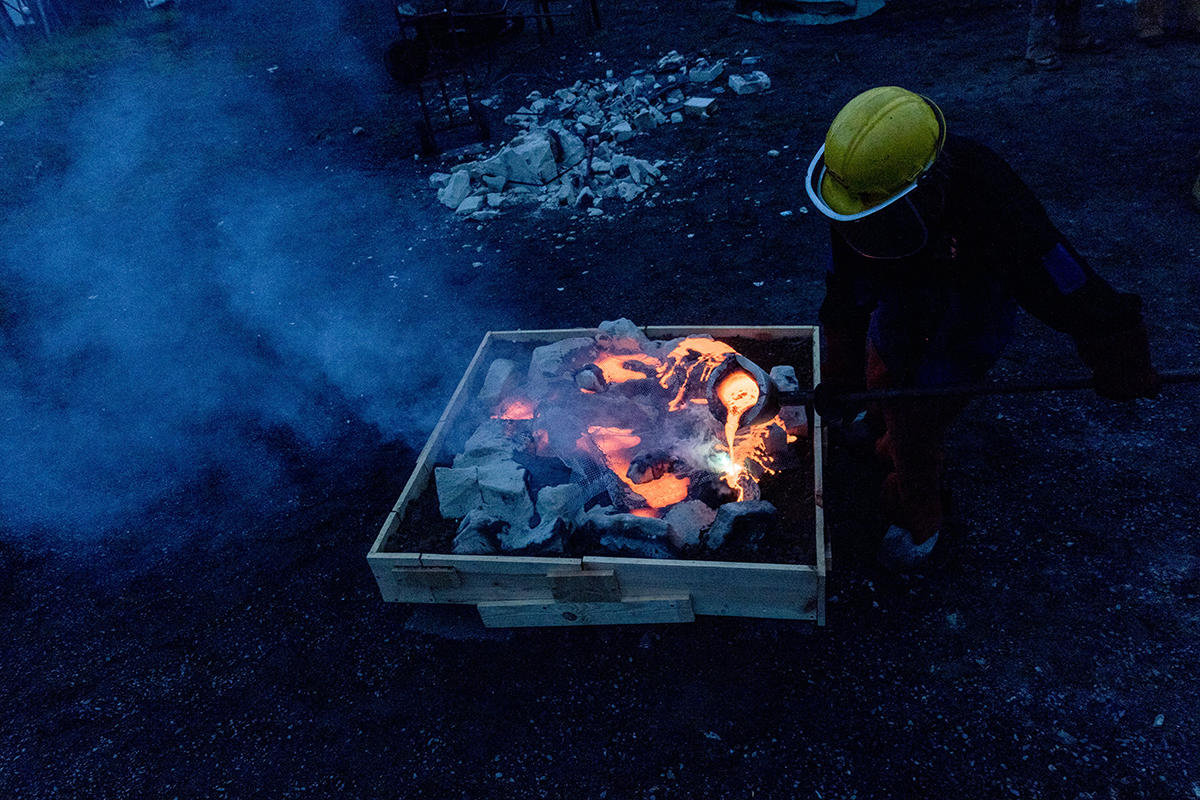 photo credit:
Iron Pour documentation: Matt Weber
Spring time documentation: Josh Mills
WHERE THERE USED TO BE A FLOCK OF BRIGHT YELLOW K2 TENTS NOW LIE PILES OF ROCKS
STACKED LIKE CAIRNS.
2019
Installation views from my MFA thesis exhibition
---
"The House | The Yard" at the Katherine E. Nash Gallery, University of MN
April 9 - 27th, 2019
*Special thanks to Easton Green for documentation photos.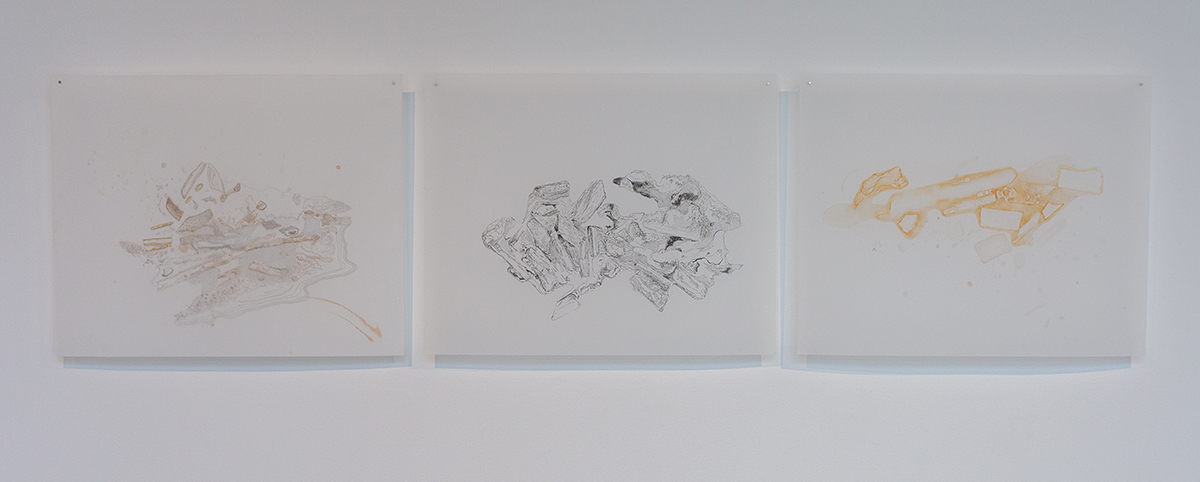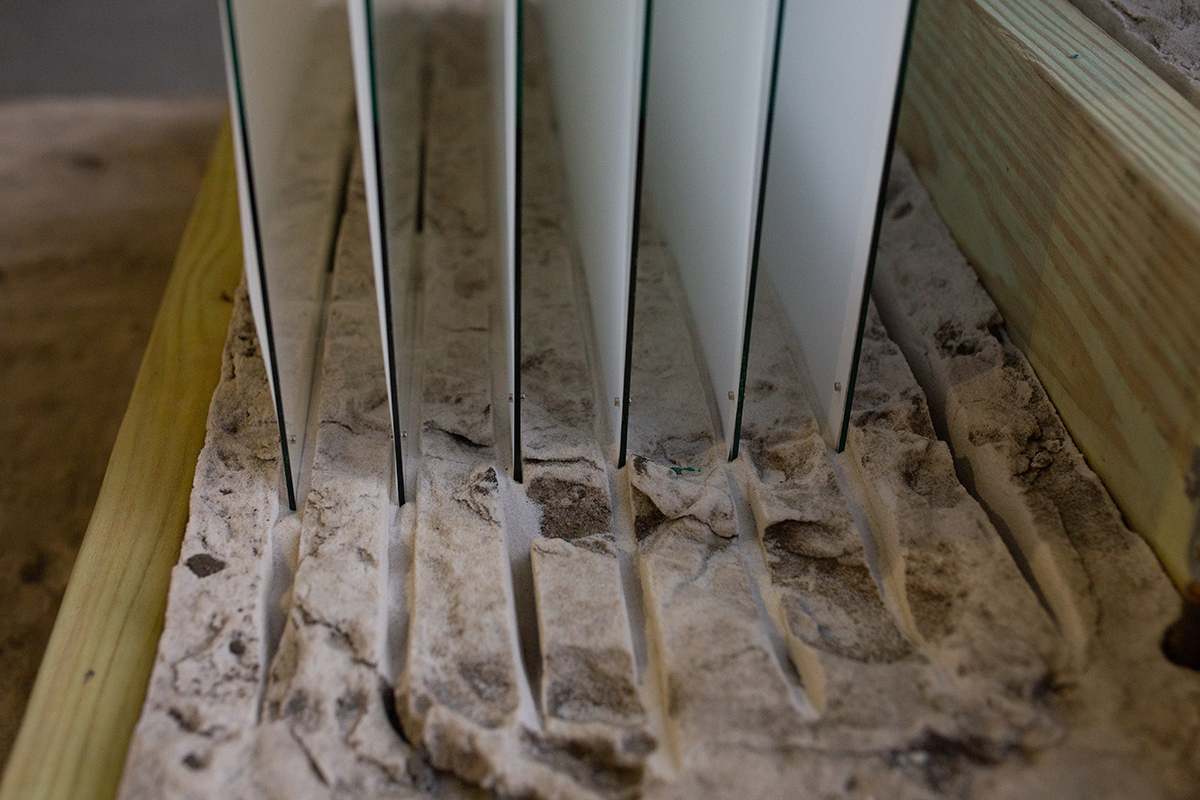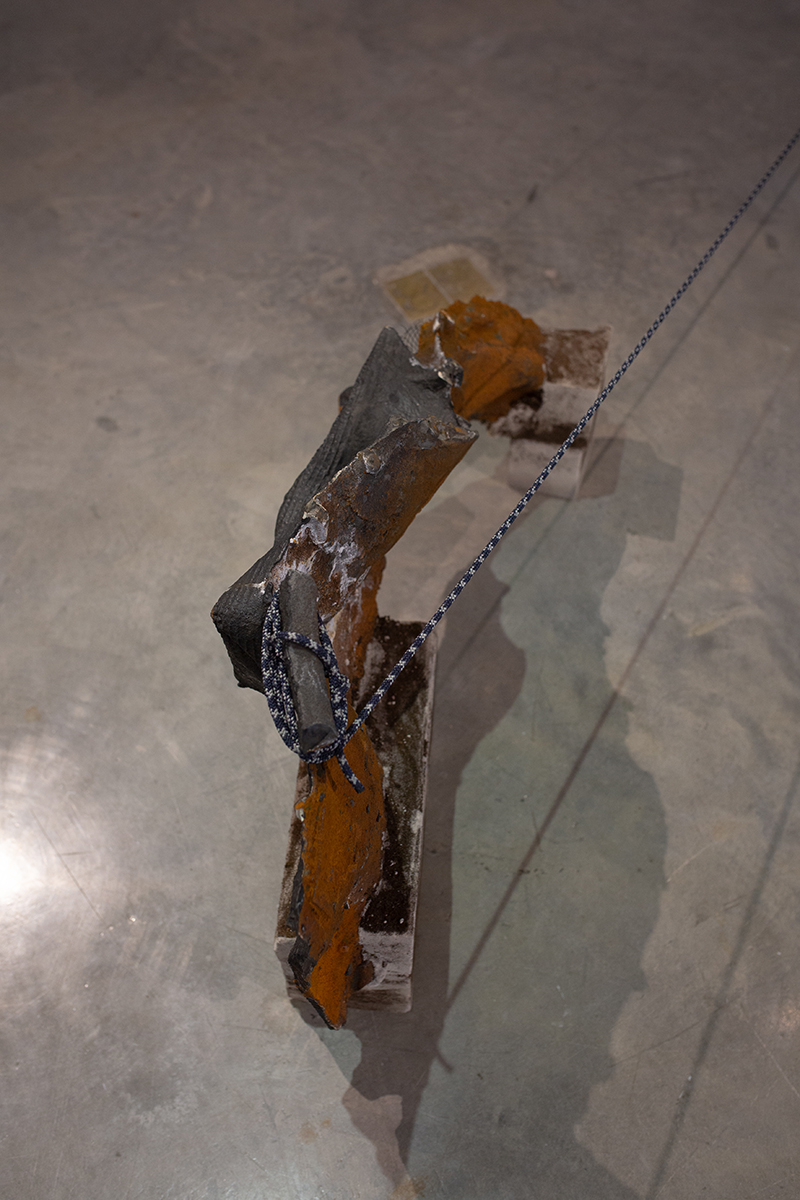 PRINTS





from WHERE THERE USED TO BE A FLOCK OF BRIGHT YELLOW K2 TENTS NOW LIE PILES OF ROCKS STACKED LIKE CAIRNS
2019



drifting by.
etching with spit bite aquatint, 24" x 36"


---



Mapping Rust
Pen, iron, rust on matte duralar, 20" x 25" each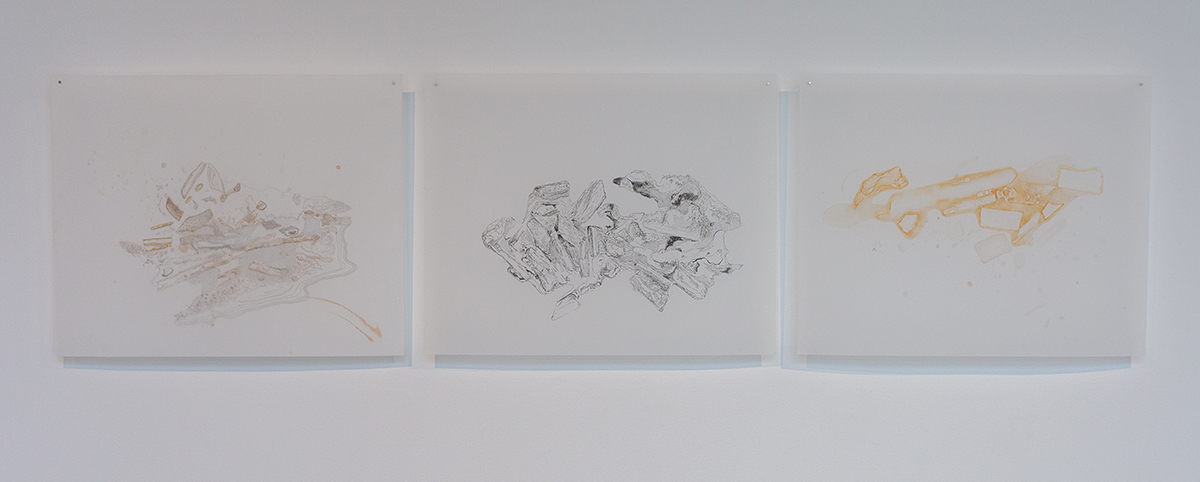 ---

Topography of Debris
screen print, iron, rust, coke, and snowmelt on matte duralar, 25" x 20" each
---
STUDIES OF PLACE
2018
etchings with aquatint and spit-bite on revere suede warm white paper
12" x 12" each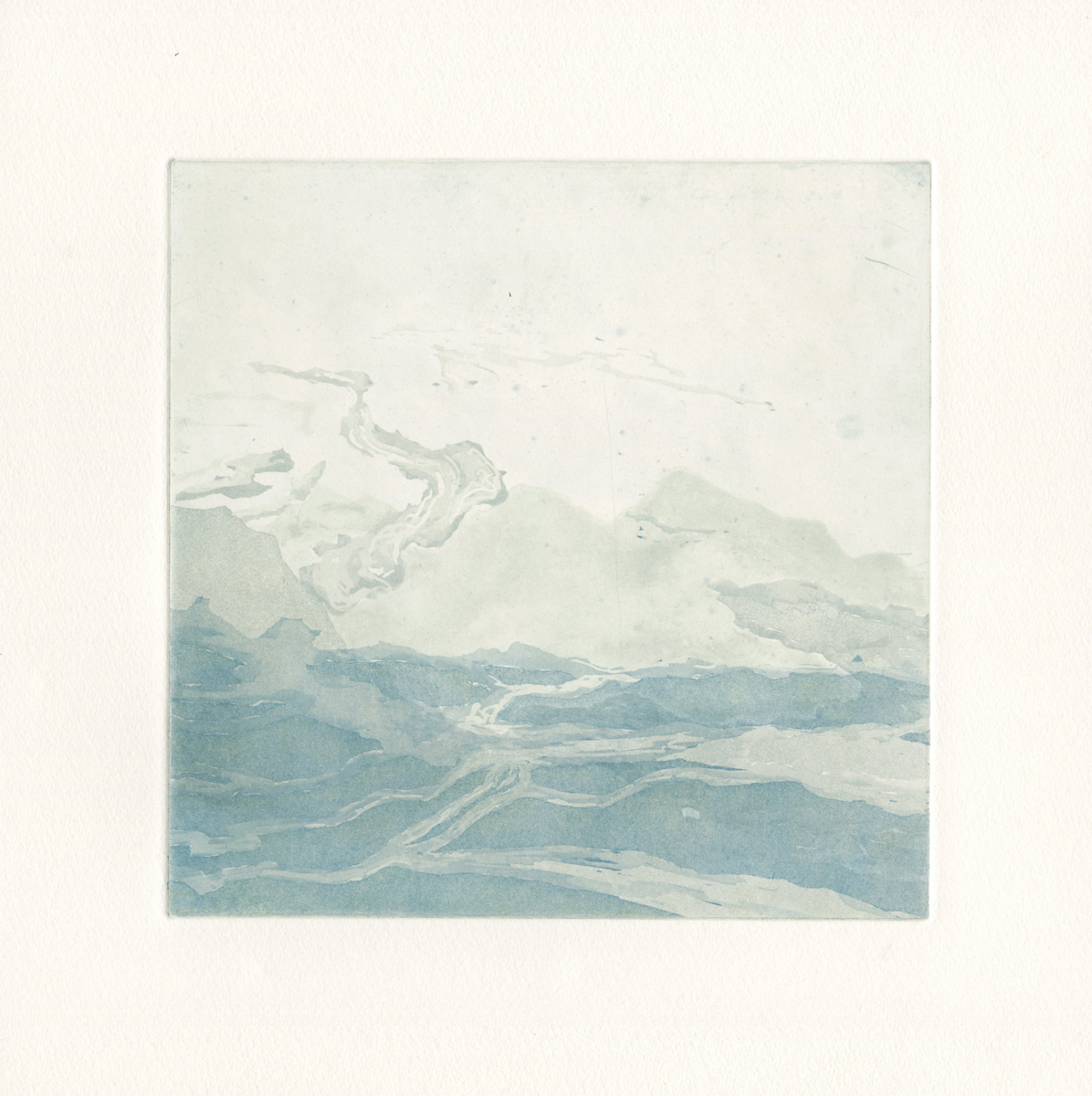 1. topo. 2. location a. 3. location b1. 4. location b2. 5. location c. 6. diagram. 7. location d.



...

WILDNESS HAZE

2016 - 2017
1. exploration in Scale 1. etching with aquatint, monotype and graphite transfer. 9" x 9" 2. exploration in Scale 2. etching with aquatint, monotype and graphite transfer. 9" x 9" 3. pines line the shore. etching with aquatint. 24" x 18" 4. wildness haze III. etching with aquatint, spit-bite and a lá poupeé. 18" x 24" 5. wildness haze II. etching with aquatint, spit-bite and a lá poupeé. 18" x 24" 6. midnight sun. etching with aquatint, spit-bite and a lá poupeé. 18" x 24"